雅思A类小作文:比较美国人的七类不同开支
You should spend about 20 minutes on this task.

The given pie charts compare the expenses in 7 different categories in 1966 and 1996 by American Citizens.

Write a report for a university lecturer describing the information below.

Write at least 150 words.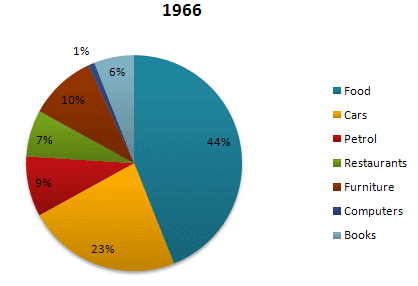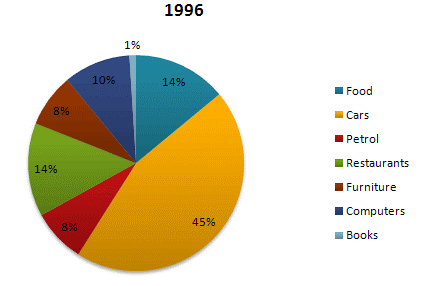 范文
The pie charts compare how Americans spent on different commodities in 1996 with that of 1966. The expenses are given as percentages and it is obvious that cars consumed the highest percentages of American citizens' expenditure in 1996 while it was food that required the highest ratio of money in 1966.  
这张饼状图比较了1996年和1966年美国人在不同商品上的花费。这些开支以百分比表示,很明显,1996年汽车在美国公民支出中所占的比例最高,而在1966年,食品支出所占比例最高。 
According to the illustration, four-tenths of Americans' expenses went on food in 1966 and they spend almost one-fourth on cars. The lowest spending Americans made was for computers which was merely 1%. Expenses by them in 1966 on furniture and petrol was roughly one-tenth each and their budget for books and restaurant meals were 6 and 7 percentages respectively.
根据图表显示,1966年,美国人消费的四分之四花在了食物上,四分之一花在了汽车上。美国人在电脑上的花费最低,仅为1%。1966年,他们在家具和汽油上的花费分别约为十分之一,他们在书籍和餐饮上的预算分别为6%和7%。
After three decades, the expenditure pattern by Americans on those goods changed noticeably.  They spent 45% on cars, which constituted their highest ratio of spending on a consumer product and spending on food preparation dropped by 30%. It is interesting to note that the spending on books reduced to barely 1% while this figure went up to 10% for computers. They spend exactly double for outside meals than they did in 1966 and their cost for petrol dropped by 1% despite a hike in spending on automobiles. Finally, Americans share of spending for purchasing furniture reduced by 2% in 1996 than that of 1966.
30年后,美国人在这些商品上的支出模式发生了显著变化。他们在汽车上花费了45%,这是他们在消费品和食品准备上花费的最高比例,下降了30%。有趣的是,在书本上的花费下降到1%,而在电脑上的花费上升到10%。他们在户外用餐的花费是1966年的两倍,尽管在汽车上的花费增加了,他们的汽油价格却下降了1%。最后,1996年美国人购买家具的支出比1966年减少了2%。