雅思A类小作文:不同工作状态下,男女休息时间对比
You should spend about 20 minutes on this task.

The chart below shows the amount of leisure time enjoyed by men and women of different employment status.

Write a report for a university lecturer describing the information below.
范文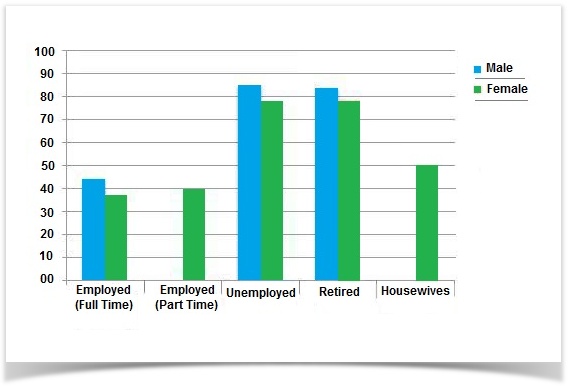 范文
The provided chart shows the number of leisure hours enjoyed by men and women in a typical week in 1998-99, according to gender and employment status. As is observed from the graph, the unemployed and retired men and women had more leisure time than the other type of people.
所提供的图表显示了1998-99年,根据性别和就业状况,男性和女性在一个典型的星期中所享有的休闲时间。从曲线图可以看出,失业和退休的男女比其他类型的人有更多的休闲时间。
Among the full-time employed people, men had about 45 hours of leisure time on an average per week compared to the 38 hours of leisure time for women. No data is given for the part-time employed men and women from this category enjoyed 40 hours of leisure time in a week. This figure is slightly more than the employed women perhaps because of their employment nature.
在全职雇员中,男性平均每周有45小时的休闲时间,而女性只有38小时。没有提供这类兼职工作的男女在一周内享有40小时的闲暇时间的数据。这一数字略高于在职妇女,可能是由于她们的就业性质。
Unemployed and retired people had the longest period of leisure activity both for men and women and men had a bit more hours than the women. As expected the retired and unemployed people enjoyed about 78 to 82 hours per week which is longer than people from other employment statuses. Lastly, housewives enjoyed approximately 50 hours of leisure time which is more than the employed women but less than the unemployed and retired women. The graph reflects that men had more leisure time from all employment statuses than women which indicates that women spent more time working at home than their male counterparts.
失业和退休的人有最长的休闲时间男性和女性,男性比女性多一点时间。正如预期的那样,退休和失业的人每周享受78到82个小时,这比其他就业状态的人要长。最后,家庭主妇有大约50个小时的闲暇时间,这比在职妇女多,但比失业妇女和退休妇女少。从图表中可以看出,从各种就业状况来看,男性比女性有更多的闲暇时间,这表明女性在家工作的时间比男性多。
The graph summarises that the male enjoyed more leisure time than women and employed people had less time for leisure activities than retired and unemployed people. 
这个图表总结了男性比女性享有更多的休闲时间,而在职的人比退休和失业的人有更少的休闲时间。